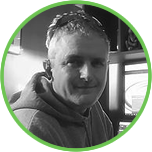 I started out a Virginia boy.  Born while my father attended Va. Tech.  Much to his dismay, I never amounted to much of a Va. Tech fan, rather lending my sports affinities to the Tarheels.  I don't really even follow my alma mater, App State, even though they are one of the best football schools in this great state.  I do, however, remember my days at App State fondly.  The "best years of my life" as the saying goes.  Enjoyed it so much that I spent 7 years there.  In my defense, I did change my major halfway through from graphic design to the dying art of print production.  A brilliant move on my part if I do say so myself.  My mother with her unwavering support, likes to tell herself, "At least he had fun while there".  Thanks Mom! J
I did gain valuable experience while away at college.  I learned how not to go about getting in-state tuition, I learned how to play a bass guitar in a very popular rock band (I'm still playing with the same guys 30 years later…oops, I dated myself) and I learned the value of a job well done thanks to all of my graphics teachers who marked up my art projects with disdain.  And I thought they just didn't like me.
After college, my band moved to Chapel Hill to make it big but really all that happened was we scared all of the locals into standing in the back of the club.  Didn't take us long to realize, success wasn't happening.  So my first job in Chapel Hill was slinging pizzas at Peppers in Chapel Hill.  There I also learned the importance of a job well done, once again.  This was becoming a theme.  I did happen to encounter life changing events there though.  Along with more lifelong friends, Peppers is where I met a cute waitress that is now my wife, going on 19 years.  Through 5 dogs and 2 boys, still kickin'.  Thanks Pep!
From pizza I moved into screen printing and later, an art director position (Go Schoolin'!).  Desk life wasn't for me though so I picked up got me a job in the construction industry.  My first love.  Growing up on a farm in rural VA., my grandfather and father built everything.  I fetched tools and secretly watched what they were doing.  Dad was amazed that I had paid attention.  Working in the construction industry got me curious about workplace safety and environmental concerns.  I went back to school and acquired an Environmental Health and Safety degree.  With that, I got a job in VA. (conveniently located to my home in Durham) as a Safety and Environmental Coordinator with a natural gas pipeline company.  Fancy!  But, I soon came to loath the weeks spent in VA. working and only having weekends with my family here in Durham.  So I began my search for employment back in the triangle.
It was then that I connected with Rich and MSG.  The rest is history.  I now have several thousand inspections under my belt and can solve most microbial and drainage related problems with relative ease.  I have developed protocols and theories as to how and why we do things and am constantly striving, along with Rich, to make it all better.  Together over the years, we have had our ups and downs but we have always remained true to the one thing that makes it all tick.  Do the right thing and actually care about your customer.  Simple enough and it seems to work.